The process of keyword research and selection is the vital first phase of any successful SEO strategy. For surgeons, targeting keywords like "plastic surgeon [city]" or simply "surgeon in [city]" oftn sound the most appealing because these short-tail keywords get searched the most.
However, it's important to put all ego aside and look at the true nature of the search engine landscape. Sometimes those enticing short-tails are not in a surgeon's best SEO interests. Perhaps the search landscape is overly-competitive or perhaps the surgeon's website is brand new (which is like starting an SEO plan from scratch.)
In short, there are a lot of variables that go into ranking a website. And we ask a lot of questions to help reveal information about those variables, and thus orchestrate a sound strategy that will deliver results.
Some of the questions we commonly ask include:
how authoritative or strong is the website being optimized?
who are our primary competitors and how strong are their websites and backlink profiles?
what types of surgical procedures does the surgeon specialize in?
what types of search engine results does Google display for certain keywords (local or traditional organic?)
how plausible would it be to attain top 3 rankings for certain keywords?
Keyword research and selection is so important that it can mean the difference between a winning SEO strategy and a waste of time.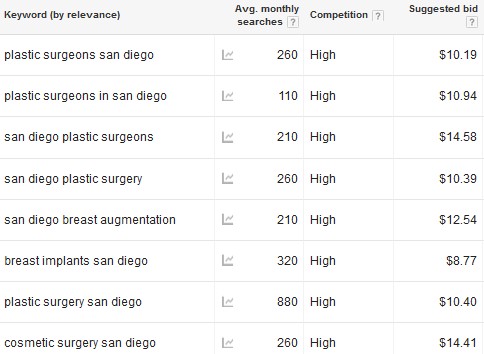 Here at Optimized Surgeons, we don't waste our client's time with inflated expectations and responses like "oh we shuold see increases soon." Instead, we look at the complete picture of the situation and provide honest recommendations.
Based on our research, our SEO team can tell you if ranking for "plastic surgeon [your city]" is going to take a 3-6 months, or if it's not even worth go after. We'll also share insights on other more targeted keywords that might be easier and more patient-centric (e.g. "breast implants [your city]").
The process of keyword selection demands involvement from the surgeons that we serve. To give you a taste of how we go about researching, assessing, and selecting keywords for our surgeon SEO clients, below are a few tips to keep in mind.
What Are Your Top Surgical Specialties?
What's great about organic SEO for surgeons is that the surgeon can target and optimize for keywords that reflect specific surgical procedures or specialties that they offer. Unlike "plastic surgeon" keywords, these specific surgery keywords ("rhinoplasty surgeon") are often less competitive and easier to rank. We often recommend going after a specific niche in plastic or cosmetic surgery, and owning it (while building toward grander short-tail keywords.)
Is the Surgeon Website Already Optimized or Relevant for Certain Keywords?
In many cases, surgeons have tried their hand at SEO themselves or with another surgeon SEO firm. If this is the case, then more times often than not the website is already in-the-hunt for solid keywords targets. As a result, we may suggest going after these terms as it will take less effort and time to realize top keyword rankings. There's nothing better than seeing a website ranking in the #6-9 spots jump to the top 3 with a couple strong backlinks.
What Does the Search Engine Landscape Look Like?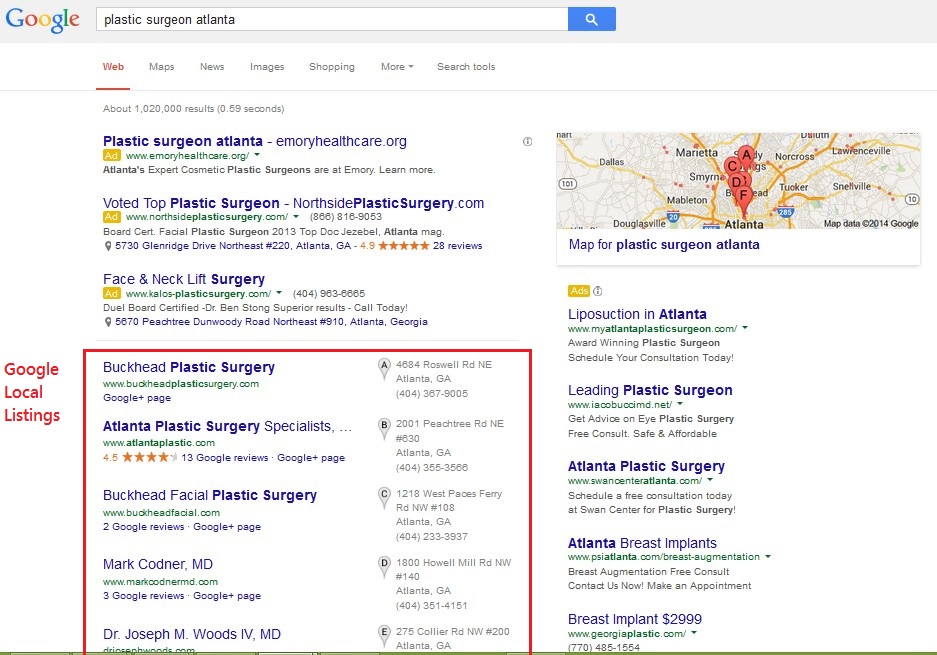 There are a few specific elements that we look at when assessing the search engine landscape. These include:
whether or not Google shows local results or traditional organic. Local search results are more common for the general short-tails, while traditional organic is more common for specialized long-tail keywords (e.g. "breast augmentation surgeon in Grand Rapids, MI"). When local results are prominent, Google+ Local optimization and running a citation audit are essential components of the strategy.
how fierce the competition is. We dig into the domain authority metrics as well as the backlink profiles of the top ranking websites. If local results are showing, we'll even run a citation audit on the top competitors to precisely gauge just how strong they are, and what it's going to take to outrank them. Some surgeons invest a lot of money in their SEO, so outranking strong competitors can take time and resources.
what neutral websites (e.g. Yelp.com, RealSelf.com, PlasticSurgery.org, etc.) are ranking on page one for certain keyword targets? These sites present major SEO opportunities to invest in a profile or business listing, which in turn can generate citations and links back to a surgeon's website.
And all of this is done before we touch the website or start generating links. Getting a clear picture of search landscape helps to establish better expectations as well as create a better SEO strategy. To learn more or see if you qualify for a free, no obligation audit of your website and its backlink profile, contact us today.