Search Marketing and SEO for Surgeons
Are you interested in exploring opportunities in search marketing and SEO for surgeons?
Here at Optimized Surgeons, we can help you actualize a successful SEO strategy that drives qualified traffic to your website that results in targeted patient leads seeking the surgical expertise that you have to offer.
Our Approach to SEO Does More Than Just Rank Websites
As the foundation to any well-optimized web presence, a sound SEO and search marketing strategy can offer the greatest value to get more patients. Organic SEO for surgeons can yield profound, sustainable returns that:
boosts credibility in your surgical practice
generates quality traffic to your website
expands your brand and overall web presence across many trusted sites and platforms
defines you as a local authority in your surgical or medical practice
improves your reputation on both a local and national level
In countless cases, surgeons who rank atop Google are viewed as the true authority figures of their medical niche. Be it breast augmentation or rhinoplasty, owning top search rankings for your surgical specialty and location is a marketing game-changer. The effectiveness and efficiency of search marketing speaks for itself: Google searchers are actively seeking what you have to offer, and in your area. In short order, SEO for surgeons (as well as PPC advertising) generates quality leads to your website and new patients to your practice.
Get started now and contact us to learn more.
Organic SEO for Plastic Surgeons & Cosmetic Surgeons
Organic SEO for surgeons encompasses a two-fold approach: attaining top rankings in Google's organic search results as well as Google's local listings. The organic results are often the most prevalent, particularly in very niche and specialized keyword searches like the image below for "rhinoplasty Boston MA."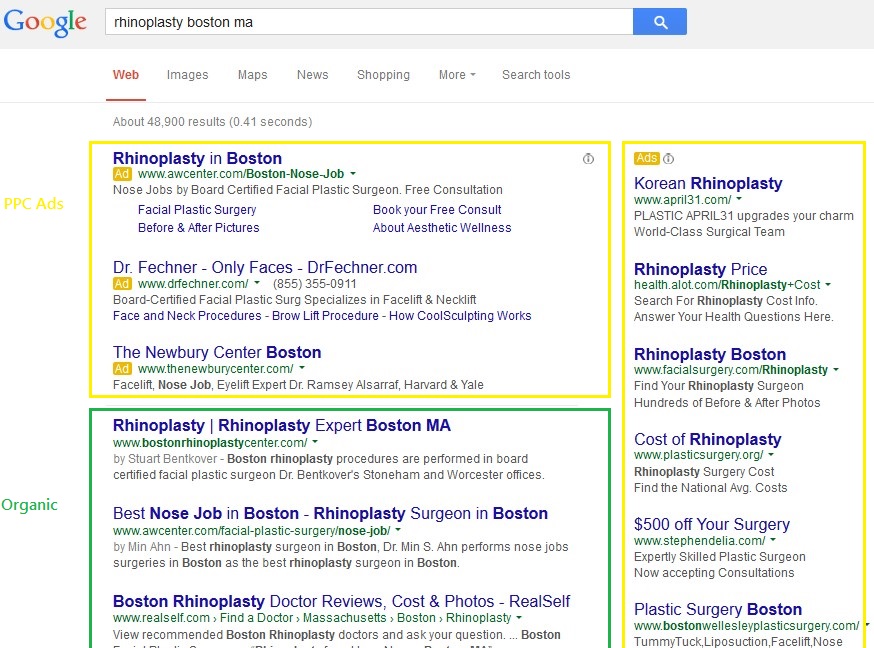 Google Local SEO for Surgeons
Conversely, Google often displays local listings for geographic-specific searches, such as the results below for "plastic surgeon Seattle." Now that Google displays the local 3-pack, the top ranking surgery practices are rewarded with far greater traffic.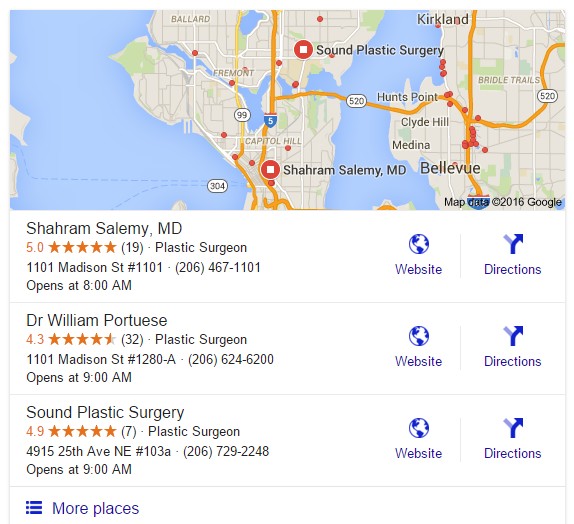 The take-home point is this: the ranking mechanism (or algorithm) behind the organic results versus the local listings is based on different factors. As a result, there are a variety of ways to approach organic SEO for surgeons.
You could target very specific surgical keywords (like "breast augmentation [your city]") and focus on a strong organic search presence. Or you could go after more competitive, broad keywords (like "plastic surgeons in [your city]") and embrace a more blended SEO strategy that focuses on local brand building, review generation, social media, and your Google+ Local page.
While Google local 3-pack SEO for surgeons takes into account different variables, many of the core strategy elements remain consistent. Here at Optimized Surgeons, our SEO programs cover the optimization of both organic and Google local listings. We customize each cosmetic or plastic surgeon SEO programs to suit the unique needs of the medical practices we work with. We can also provide Pay Per Click (PPC) advertising, an effective supplement to maximize search engine exposure and draw in-market traffic to your website.

Strategies Behind a Successful Plastic Surgeon SEO Program
Many surgeons are under the impression that SEO is scientific practice of tweaking a website's code and content to rank higher in the search engines. While that is, to an extent, true, there is much more that goes into a successful surgeon SEO program. Below are a few of the most essential strategies when doing SEO for surgeons.
Copywriting & On-Page SEO for Surgeons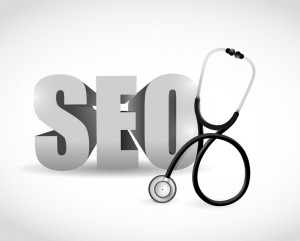 The foundation to any SEO program is to ensure the website is keyword relevant in all the right places. This often requires the creative work of an SEO copywriter, in addition to the technical capabilities of SEO-friendly web developer.
In addition to generating new content that's branded to your practice, speaks to your target patients, and is keyword relevant; the technical side of on-page SEO ensures that your website is in good working order for search engine crawling and indexing. In some cases of providing SEO for surgeons, the website is already in good working order, so off-page SEO is of primary focus.
Off-Page SEO: Citation Audit & Link Generation
Because most cosmetic and plastic surgeon SEO programs are locally-focused, a citation audit is a vital process. A "citation" is simply your practice's name, address, and phone number mentioned on other external sources other than your website. The most common are directory listings. Ensuring all citations are consistent and accurate is important to maximize ranking potential in Google local SEO.
Perhaps one of the most essential elements of off-page SEO for surgeons is link generation. In short, links from other external sources (e.g. a surgeon profile listing on RealSelf.com) are like votes of credibility and authority that search engines take into account when determining rankings. Generating links from quality, relevant, and authoritative sources ultimately fuels top search engine rankings.
Optimizing SEO Assets & Engaging Patients
In addition to your plastic surgeon website, there are many other SEO assets that you can build and optimize. These plastic surgery SEO assets range from blogs (i.e. Blogger, WordPress, etc.,) directory listings (i.e. Yelp, Google+ Local, Bing, Yahoo! Local, etc.,) and various social media profiles.
Look for new opportunities to expand your surgery practice's web presence on these various SEO assets. Are you blogging? Do you have a presence on Pinterest? Have you claimed and verified your Google+ Local page? These are powerful opportunities to generate links, trust, and search engine authority in your plastic surgery brand.
Further, engage your patients (both prospects and existing) with creative strategies. Engagement should focus on specific goals and outcomes, such as generating reviews, getting users to interact with content, or driving traffic to your website. All of these goals and objectives can result in greater SEO performance for plastic surgeons.
Pay Per Click (PPC) Advertising for Surgeons
Pay Per Click (PPC) advertising for surgeons ensures that your website listing is present on the first page of Google. Based on a simple bidding model, the amount that advertisers bid on certain keywords determines the height of their ad placements. Not only is PPC advertising an instant way to attain top Google search exposure, but it's a powerful SEO supplemental to magnify search visibility and enhance any plastic surgeon SEO campaign
PPC advertising is a highly effective means to attain top search engine exposure – instantly. We have helped countless clients realize success using PPC, with advertising budgets ranging from $300 to $3,000 per month. At Optimized Surgeons, we provided individually-tailored PPC advertising programs that leverage years of experience mastering the best practices of Google AdWords and Analytics.