Organic SEO for Surgeons
Organic SEO for surgeons offers a marketing gamechanger. When medical professionals rank at the top of Google for their core surgical practice, they are often able select the patients they want to work with. In essence, this is because top Google search rankings translates to being the authority in your medical niche.
Organic SEO for surgeons is approached in two unique ways: Google local optimization and organic search optimization. Both approaches to Surgeon SEO demand distinct strategies.
Google Local Optimization
Google local optimization, or local SEO, focuses on the unique listings that include Google Maps and the small red push-pins. The algorithm in which Google used to determine the ranking order of its local listings are very different from the traditional organic search results.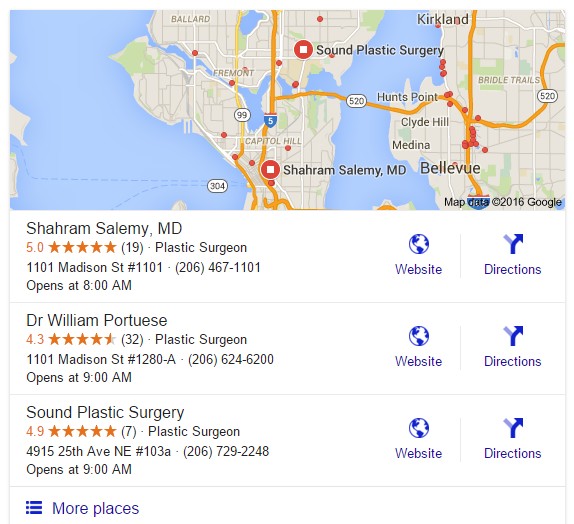 Some of ranking factors that influence a surgeon's Google local search listings include:
How well-populated and optimized the Google+ Local page is
Whether or not the Google+ Local page is verified with the business
The nature of the business website, its citation, and whether or not its properly linked to the Google+ Local page
The number and accuracy of "citations" (or mentions of the business name, address, and phone number on other web listings, such as Yelp, Facebook, Yellowpages, LinkedIn, etc.)
The amount and quality of reviews left on the Google+ Local page
The proximity in which the business is located to the centermost point of the target city or town
These are just a few of the most common ranking factors that Google considers in its Google local search listings. It's important to keep in mind that Google is always evolving and displaying different forms of search results.



One consideration that important when doing SEO for surgeons is understanding when Google shows it's local listings, and when it doesn't. For more specialized and niche surgical procedures (such "breast augmentation" or "rhinoplasty") Google often display only organic search results (and not the local listings). As a result, a unique strategy is need to attain top rankings for these keyword phrases.
Organic Search Optimization
Organic search optimization, or organic SEO for surgeons, is key to acquire patients who are interested in specific surgical procedures. Unlike Google Ads programs that are more immediate and short-term, organic search optimization is a long-term program.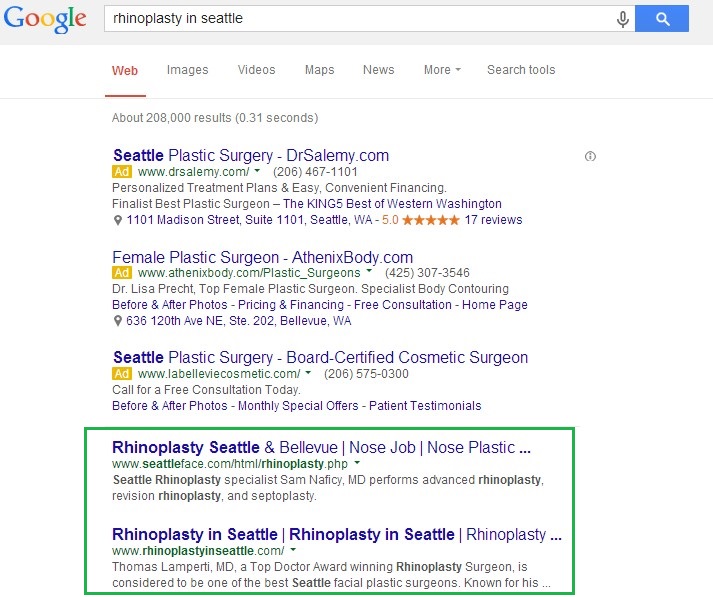 Unlike Google local optimization, organic SEO is the foundation to achieving top keyword rankings that last. With this approach to surgeon SEO, we can optimize a website for all types of keyword targets. And in some cases of highly successful SEO programs, an organic listing can trump the Google Local listings (see the example below).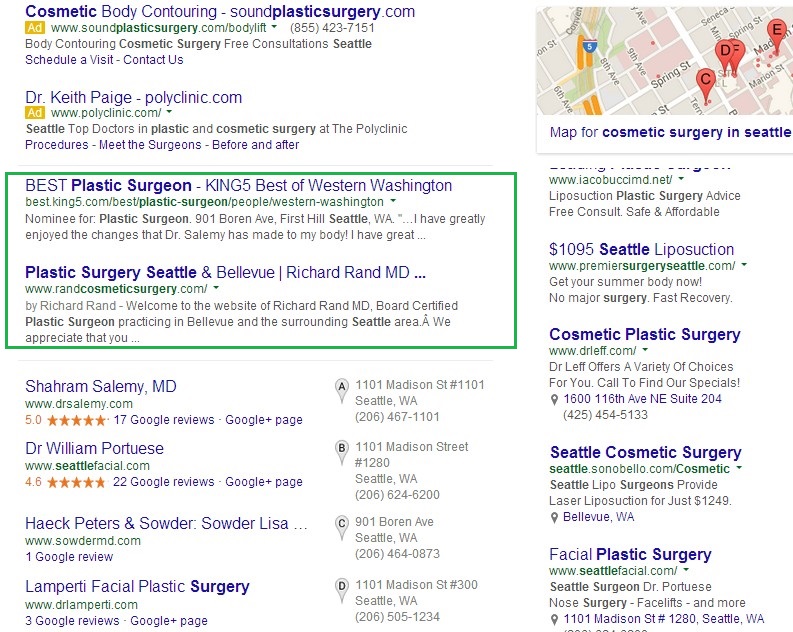 Some of ranking factors that influence a surgeon's Organic search listings include:
How authority of the website (which is based on domain age, backlink profile, and other factors)
The number, quality, and relevancy of backlinks pointing to the website from external sources
The quality of the website's content, use of keywords, and number pages
The "freshness" of the website, or how often it's updated with new content (often best achieved via blogging or publishing fresh content on a consistent basis)
The internal linking throughout the website and the presence and adequacy of sitemaps
Although there are several other ranking factors involved, the latter are elements that we can control. To learn more about SEO for surgeons with Optimized Surgeons, please contact us for more information.