Here at Optimized Surgeons, we're focused on shaping what defines the "best plastic surgery SEO company". That phrase is actually a keyword query that is Google'd (assumably from plastic surgeons and other SEO companies checking their rankings.) Let us be honest: we're really interested being the best SEO company for plastic surgeons (and other related medical professionals for that matter.)

In search and actualization of our core competencies here at Optimized Surgeons, we've defined the ideal SEO program for surgeons and medical professionals. It's a cohesive and synergistic blend of website optimization and technical SEO; citation auditing and clean-up; backlink building and social stimulation.
Website Optimization
Website optimization carries many meanings in the greater SEO community. However, it can best defined as a set of techniques to improve the overall performance and usability of your website.
This focuses on:
increasing the load speed of web pages (which correlates to more efficient crawling and indexing by search engines)
enhancing the structure of your site (navigational elements that help visitors use and navigate your site)
implementing call-to-actions (CTA's) and defining your site's conversion goals and overall conversion funnel
This is just the tip of the iceberg when it comes to website optimization. In short, this is the foundational component to ensure your plastic surgery SEO program sets course in the right direction. This is because all of the other SEO techniques will have limited potential if your site is slow and choppy, or doesn't direct traffic to take desired action.
Technical SEO
Technical SEO is similar to website optimization in that the focus is to improve the performance of your site. However, technical takes this one step further by addressing the site's content.
For instance, renaming URLs to be keyword relevant (and 301 redirecting the old URls to the new) is a vital part of SEO for surgeons. Instead of automatically/CMS-generated URLs like /page-id=14/, it would be more advantageous for SEO to have URLs that read something like rhinoplasty-surgery-miami (or whatever the keyword targets are per page.)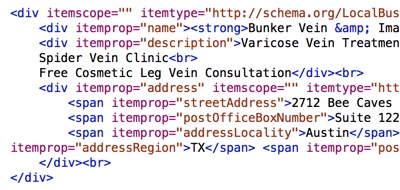 Additionally, Schema Markup is an important aspect of technical SEO that's growing in importance. Schema is a form of HTML markup, or specific tags, that are used to define precise pieces of content on a page. There are various tags that tell search engines what a page is all about (i.e. Local Business, Organization, Product, etc.) as well as what specific strings of content are on those pages (i.e. Business Name, Phone Number, Description, etc.)
In essence, Schema can give your plastic surgeon SEO program a massive advantage over your competitors. Although it has been around for awhile, most SEO's and webmaster have yet to integrate Schema on their sites. In an effort to be the best plastic surgery SEO company, we value Schema and technical SEO as key cornerstones to our services.
Citation Auditing
Citations are mentions of your surgery practice's Name, Address, and Phone number. Commonly called "NAP" in the SEO profession, citations (which are found mostly on directories [Yelp, Bing, Yahoo!, YellowPages, Manta, etc.] and press releases) are a ranking variable in Google Local Search, or the coveted "3-Pack" shown below.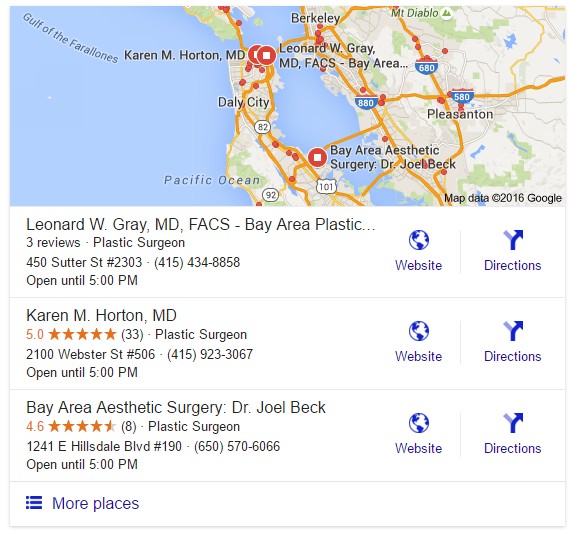 Google crawls all of your citations throughout the web and evaluates the overall volume and accuracy of those citations. If you have NAP information that is misaligned or inaccurate, chances are your practice is not ranking in Google local 3-pack. Conversely, if you have tons of citations throughout the web and all NAP info is consistent, then you increase the potential to rank in the 3-pack.
As part of our plastic surgeon SEO services, we conduct a thorough citation audit to see exactly what your NAP's look like on over 50 leading directory sites. We pinpoint what citations you do and do not have, as well as any inaccuracies. Further, we fix existing citations and populate new listings where you're practice is not present.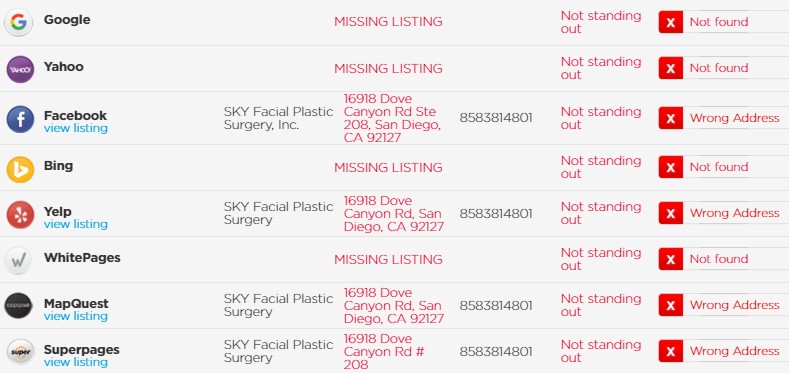 While there are many variables that go into Google Local 3-Pack SEO, citation auditing is an important factor worth addressing. Optimizing your listings can also contribute to better rankings and inbound traffic when individuals search Yelp (and other directories) for a surgeon in their area.
Backlink Building
Backlinks (also called "inbound links" or just "links") are links that come from other websites, directories, social profiles, blogs, etc. and direct to your website. Links are like votes of credibility and popularity. Earning and building links from relevant sources (i.e. medical blogs, plastic surgery websites, local directories, etc.) will increase your domain authority (potential to rank in Google.) Further, the link anchor text can also impact keyword relevancy. See the example below.
The example above is considered an "optimized backlink" in that it does intentionally use keywords in the anchor text. While some optimized anchor text is good, it's extremely important to have a natural balance of links – both in anchor text and source.
A natural backlink profile would include links from various sources (i.e. articles and blogs, press releases, directories, etc.) as well as links using a wide range of anchor text (i.e. www.DomainName.com, Click Here, Visit Website, (Surgery Practice Name), plastic surgeon in (Geo-Target/City), etc.)
The power of backlinks also underscores the importance of Citation Auditing above. Not only are we cleaning-up citations, but we're also building natural links that will help fuel your SEO efforts. So not only does your site get a fresh influx of quality backlinks from sites like Manta.com, Superpages.com, Yelp.com, and Bing.com, but your practice's citations are accurate and consistent. This will help your practice rank in the Google Local 3-Pack, as well as the organic search results underneath.
In addition to directory listings, at Optimized Surgeons we employ contextual link popularity strategies using articles, blogs, and press releases. We have access to a number of websites related to health, wellness, medical, and surgery. The links that stem from these sites are the true powerhouse to our SEO services. It's also an asset that defines our very practice as the best plastic surgeon SEO company.
Social Stimulation
Social stimulation is an economics-inspired way of saying growing your social media presence. The influence of social media on SEO continues to climb. Social signals (likes, tweets, pins, shares, +1's, etc.) are similar to backlinks in how they define popular content worthy of higher rankings in Google.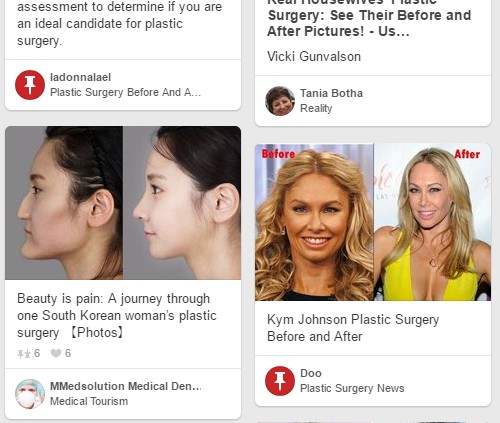 The social stimulation component focuses on the following objectives.
1. Optimizing your practice's social media profiles – creating, claiming, and/or verifying your practice's profiles on Google+, Facebook, Twitter, LinkedIn, YouTube, and Pinterest is essential to contend.
2. Start following and establishing content sources – sharing great posts is what gets you popular in your social sphere. Start following other influential people, brands, and communities, as well as pinpoint some solid websites and blogs for shareworthy content. Ideally, the blog on your website will the strongest asset for SEO-driven social stimulation.
3. Create a social media posting schedule – In addition to defining how many posts to do in a week, try to cap your daily posts at 2-3. At minimum, shoot for 2-3 per week on each social platform.
4. Take the time to interact, respond, and be social – invest a few minutes per day to "like" comments and respond to your followers. Word of mouth is still a powerful marketing tool, and social media is a major facilitator.
The best plastic surgeon SEO company can help achieve these social media objectives by providing actionable consulting or done-for-you SEO services. At Optimized Surgeons, we offer both options to socially-optimize your SEO efforts.
Actualize Your Plastic Surgery SEO Strategy
If you're a plastic surgeon that is interested in getting some help increasing your search engine exposure, then work with our SEO experts to craft and/or actualize your plastic surgery SEO strategy. We have the resources, experience and skills that medical professional value when investing in search engine optimization.